> PRODUCTS > NEO6-CP415SUD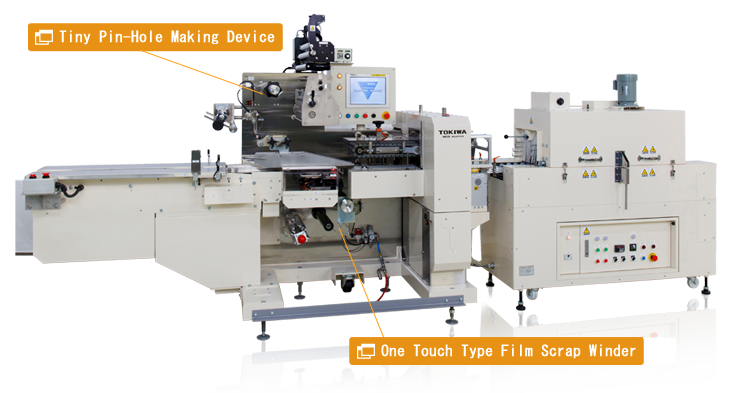 A compact shrink flow wrapper to shrink wrapping each kind of containers. This wrapper has caster wheel as standard for easy handling.

【NEO6-CP415SUD Features】

With half machine length compare to other Tokiwa wrappers, it is able to be installed in limited space.
Excellent operation by standard 12 inch large sized color touch panel.
Up to 99 items data installation.
Easy to move its location by caster wheel and socket type power cable.
Automatic feeding system can be added after machine installation.
Paper coreless one touch release type scrap winder.
All film holders are designed to locate at lower position for easy film roll replacement.
Height of Endsealer position is adjustable.
Target Items

Each Type of Containers (Bottles, Tubes, Jars)
Packaging Speed

Max. 50 pack/min (depend on kind of items and wrapping material)
Power Consumption

Three Phase 200V 4.5kw (without shrink tunnel)
Standard Spec.

Touch Panel Operation / Item Data Installation Up To 99 Items
Maximum Film Width

450mm
Shrink Tunnel Length

Total Length 800mm (Standard 30 Pack/Min.)
Usage Example
Commodity

Box tissue, Mouse mask, Hand soap, Liquid soap, Fragrance, Toilet paper, Wet tissue, toothpaste

Cosmetic

Tube, Bottle, Pump bottle, Round container, Carton