> PRODUCTS > NEO6-618SUD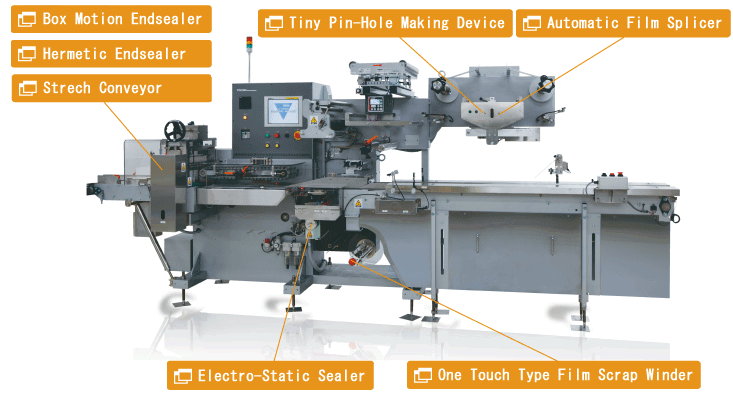 Servo control technology. Adaptive Endseal cut position for height different product.

【NEO6-618SUD Features】

NEO model is high end machine series. It has the best performance and machine specifications. It is able to operated without manual by its microcomputer.
This machine is able to do automatic wrapping with printed film. Also, it can cost down with non-printed film.
Its safety and operation are improved during setup with individual stop switch to stop Endsealer as a pre-installed option.
Target Items

Aerosol Cans, Bowl Noodles, etc.
Packaging Speed

Max. 300 pack/min (depend on kind of items and wrapping material)
Main Motor

200V 750W (AC Servo) 3 Units
Power Consumption

Three Phase 200V 5.5kw (without shrink tunnel)
Film Width

580mm
Cut Pitch

130~600mm
Usage Example
Aerosol

Hair spray, Insecticide, Deodrizer

Noodles in container

Cup noodles, Bowl noodles, Square cup noodles

Canned food

Single pack, Multi pack, Canned pet food

Medicated products

Energy drink, Supplement

Battery

Dry cell, Micro cell

Stationery & Books

Note book, Pen, Glue, Indian ink, Tape, Comic book, Magazine, Direct Mail

Groceries

Match, Wall paper, Fluorescent light, Grove

Cup soup

Cup soup

Drink

Canned juice, Canned coffee, Sake
Option Choice
Auto Feeders