> PRODUCTS > NEO-G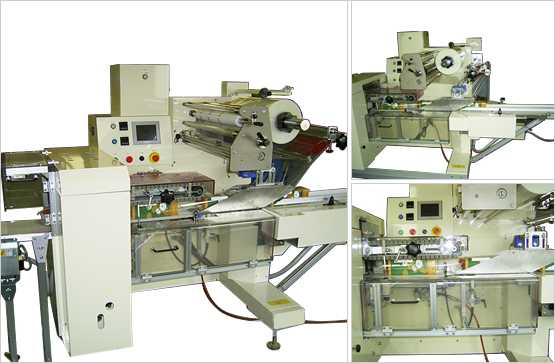 【NEO-G Features】

The NEO-G Shrink Wrapper is for Gable Top shape product with autofeeder that separates the products with proper spacing between the products.
No pushing lugs used on infeed conveyor for safety feeding in case manual feed.
Electrostatic Longsealer reduce power consumption than heat sealer contributing decreasing CO2 emission.
Independent Endsealer motion control gives easy and safety set up and also easy machine operation.
Target Items

Sake Pack 60 degree to 90 degree
Packaging Speed

Max. 30 pack/min (depend on kind of items and wrapping material)
Main Motor

200V 750W (AC Servo) 3 Units
Power Consumption

3-Phase 200V 4.0Kw (Shrink tunnel not included)
Film Width

560mm
Cut Pitch

110~560mm
Usage Example
Paper carton drink

Paper carton Sake
Option Choice