> PRODUCTS > CP-1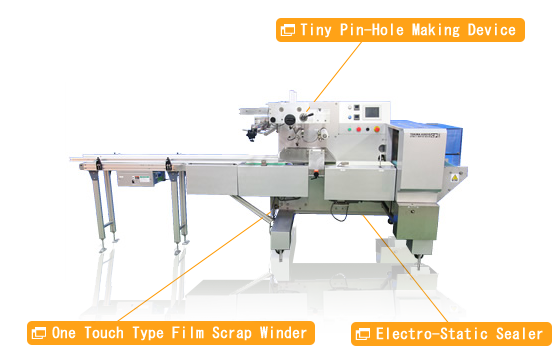 Accurate registration control with soft printed shrink film(N strap film) automatically

【CP-1 Features】

It is cost effective and less material consumption machine using self-adhesive multi-color printed shinny shrink film that makes available non-printed tray at lower cost.
Less machine trouble with no Longsealer equipment and easy film roll change by cradle type film holder and infeed conveyor without pushing lug are additional feature.
Safe manual infeed operation with pusherless infeed conveyor.
Target Items

Food on plastic tray, etc.
Packaging Speed

Max. 100 pack/min (depend on kind of items and wrapping material)
Main Motor

200V 750W (AC Servo) 3 Units
Power Consumption

3-Phase 200V 4.5Kw (Shrink tunnel not included)
Standard Spec.

Operation with touch panel / Save max. 99 items
Film Width

580mm(CP1-515SUD)
Cut Pitch

130~600mm(CP1-515SUD)
Usage Example
Food on tray

・Fresh food

Snack

・Wafer
・Biscuit
・German Tree Cake
Option Choice